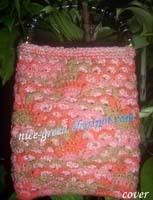 Finnally I have finished to make a two in one party bag. Why I call two in one? Because I use two different crochet motif. This is the cover, i use sembur bali yarn.









And the inside, I use standard crochet motif. First make a chain then dc around, 3 dc in one loop and keep 3 chain, repeat around until finished. And I used plastic beaded handle bag. You can change the motif inside and cover.


Mbak Thata, thank you so much for a very beautiful yarns. I really love it.